Description
Bgmi Uc Delivery Instruction for Pubg Uc Top Up pubguc with Player ID Buy Pubg Uc : Bgmi uc Topup Cheap
PUBG Mobile UC is one of the game's two main currencies – the other being AG. You use both currencies to buy items in the shop, but you earn AG by participating in events, while you can purchase UC in the shop.
Here are all the items you can buy using UC:
Treasures
Outfits
Gun skins
Battle Pass
Vehicle skins
Parachute skins
Companions
Emotes
Accessories
HOW DO I GET PUBG MOBILE UC?
There are loads of different methods to get PUBG Mobile UC. Here are some of the best:
Buy it: you can buy UC in the PUBG Mobile in-game store
Bonus Challenge: this is a special tournament event where you compete to earn rewards based upon kills and victories, though it's only available in certain Asian regions
Royale Pass: you can earn UC as a reward for raising royale pass rank, but you must purchase the elite pass for the correct reward tier
Giveaways: just as with redeem codes, many streamers run giveaways that offer the opportunity to win some UC. See the PUBG Mobile Rddit and Discord to stay up to date with new prize draws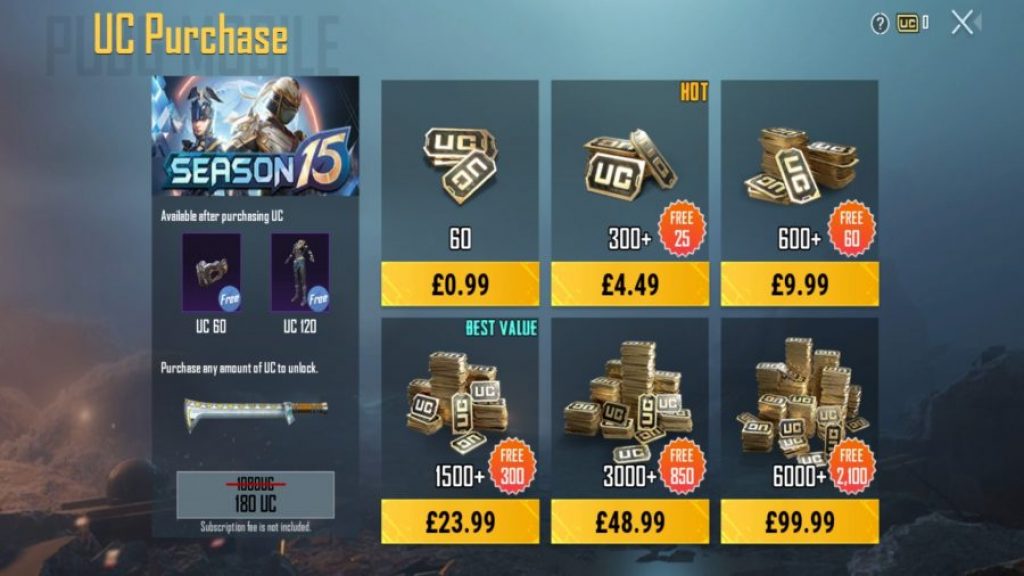 WHAT'S THE MOST COST-EFFECTIVE WAY TO GET PUBG MOBILE UC?
You can purchase PUBG Mobile UC from the in-game store for a variety of prices, but as with many in-game currencies, the more you buy the more you get for free. If you plan on playing PUBG Mobile for the foreseeable future, and want to unlock more cosmetics and in-game content, it's worth buying more than less:
60 UC: $0.99/£0.99
300 UC + 25 free:$4.99/£4.99
600 UC + 60 free: $9.99/£9.99
1500+ 300 free: $24.99/£23.99
3000+ 850 free: $49.99/£48.99
6000+ 2100 free: $99.99/£99.99
CAN I GET PUBG MOBILE UC FOR FREE?
There are some ways to get PUBG Mobile UC for free, though you have to spend time instead of money. Giveaways are a good, if unreliable, way of getting free stuff. Ranking up royale pass rewards some UC, but it isn't enough to offset the cost required to purchase it.
On the whole, the best way to get UC is to purchase smartly. If you plan to play the game long-term, more is better, but if you just want a single item, less is more appropriate.
Top up Buy PUBG UC in seconds! Just select the value pubguc of Bgmi UC voucher you wish to purchase, complete the payment, and the UC voucher will be be ready for redemption.
Learn how to pubguc redeem your PUBG Mobile UC voucher code.
Pay conveniently using pubguc GrabPay, Boost, FPX, ShopeePay, Touch 'n Go eWallet.There's no credit card, registration, or log-in required.